"Do you ever look at someone and wonder, 'What is going on inside their head'?"
Well, yes Joy, I do.
Part of the role of the child life specialist may not be to look directly inside someone's mind, but a child life specialist can provide a therapeutic environment for children and families to express themselves, and their emotions.
Now, Inside Out is a gorgeous film in many ways. In this case, I will keep it simple and mention the important points.
First, you have the thematic element of some of human's basic emotions: Joy, Sadness, Anger, Disgust, and Fear. Thanks to the intense and in-depth work of Pixar animators who went above and beyond collaborating with psychologists and other related experts, they displayed these characters well and gave identity to a topic that has been vague for children and adolescents. For many children and families, they may have a combination of some, or all of these feelings when they come into the healthcare setting. Talk about having lots of those memory balls!
So, how does a Child Life Specialist use these emotions? First, we can use these emotions as foundations as how a child could respond to a situation. For example: "Describe to me what you look like when you are angry. Do you get hot-headed like anger? Do you use a louder tone of voice?"
We can even take it a step further: "How do you think Fear would act if he knew he had to get an I.V.?" The Child Life Specialist can take that information to learn about how the child would respond to such situations to determine their coping styles. The Child Life Specialist can also ask children what makes them feel joy and can provide positive experiences, such as having games, books, and art in the playroom.
It is also important that we explain to parents why children may be responding in ways that are not typical. Like the scene when Riley explodes at the dinner table about her frustration with being probed about the first day of school by her parents, children can often be experiencing different thoughts and feelings that are challenging to express. It is important as the Child Life Specialist to look at the context of the situation to figure out the underlying emotions that may be occurring in a child or family member's mind so that Anger doesn't get the better of us.
Second, this film is excellent with talking about transition. There is the main idea which is that Riley has moved from Minnesota to San Francisco. Like Riley, some children have to (temporarily) leave their typical routine and life to enter the healthcare setting and attempt to adjust and adapt to a whole new environment when they receive care.
Let's just hope a hospital never makes kids adapt to broccoli pizza!
For Riley, she has to adapt to a new house, new school, and new hockey team, but this adjustment takes time because she misses how things used to be. Joy works effortlessly to keep Sadness away from allowing her to feel that longing and missing of Minnesota. Fortunately, Joy realizes that Riley needs to be Sad so that she can seek the comfort of her family and express those feelings.
For many kids in the healthcare setting, many of them miss opportunities to be kids, and this is an opportunity for the Child Life Specialist to determine how to help develop routine and familiarity with the healthcare setting. This might mean making their room more appealing, engaging in pet therapy so they can walk a dog, go to a playroom, or invite friends to visit them.
I give a two thumbs up for this film and encourage families to use this film to begin having opening dialogue with your children about their feelings. I also encourage child life students and specialists to begin using these themes to apply them to different scenarios as they happen with children and families.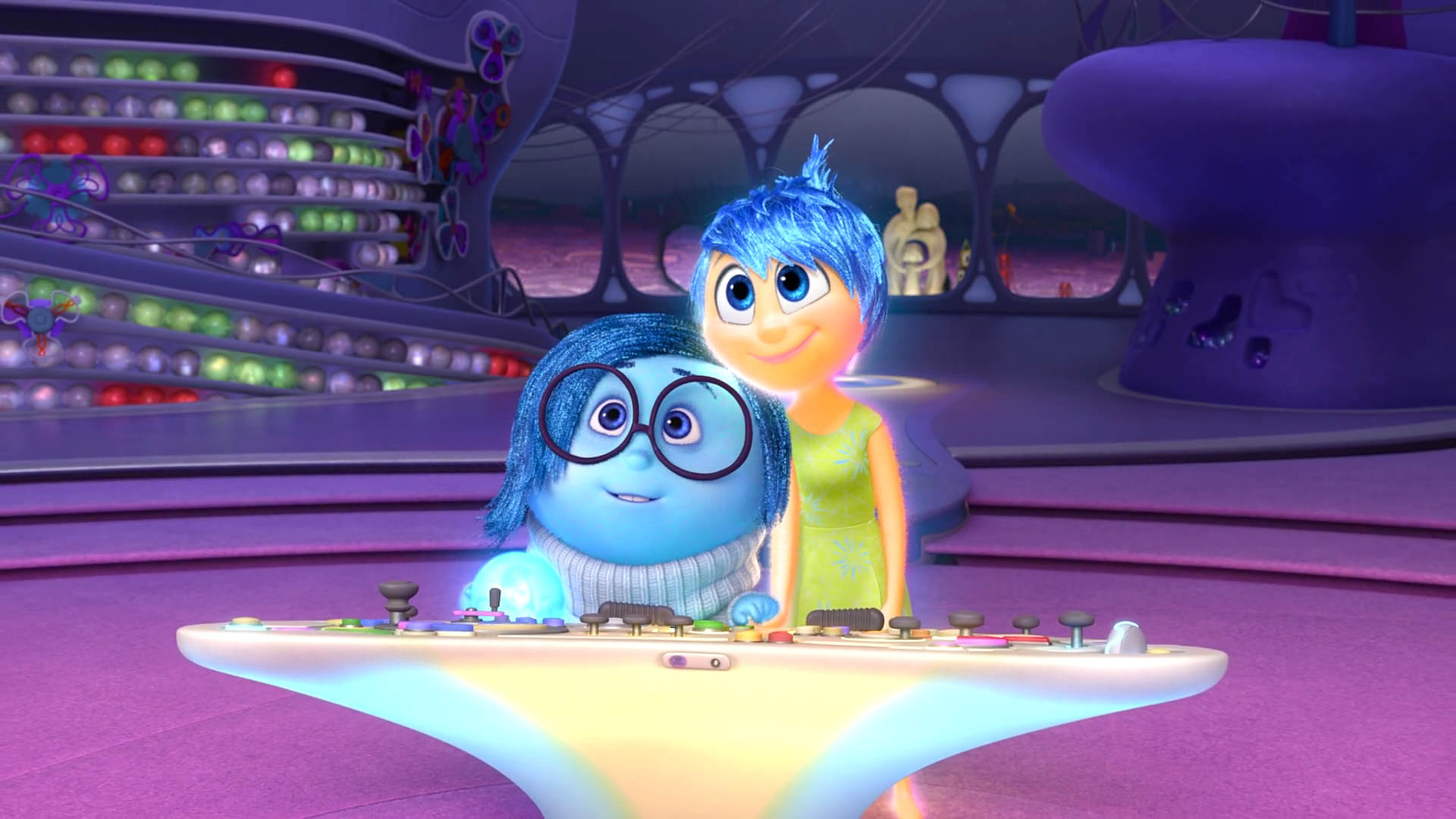 For further resources to use in your work or to ask questions with your children:
Plot Analysis of Inside Out: https://www.psychologytoday.com/blog/beyond-heroes-and-villains/201506/inside-out-emotional-truths-way-pixar
An Inside Out Study Guide for Teens: http://www.burdtherapy.com/inside-out-disney-pixar-study-guide/
Other Thematic Elements for Discussion: http://www.thehelpfulcounselor.com/20-counseling-themes-in-inside-out/
Developing Complex Emotions as told by Inside Out: http://www.vox.com/2015/6/29/8860247/inside-out-emotions-graphic
Using Inside Out to Teach Emotional Intelligence: https://www.gottman.com/blog/12-ways-to-use-inside-out-to-teach-emotional-intelligence/
Docter, P., & Del Carmen, R. (Directors). (2015). Inside Out [Video file]. United States: Walt Disney studios home entertainment. Retrieved January 17, 2017.